"Thotiana" rapper, Blueface, 26, may be known best for his relationship with artist Chrisean Rock. But before he was publicly involved with Rock, Blueface was dating longtime girlfriend, Jaidyn Alexis, 24. Meeting in high school, the two continued their relationship and went on to have two children, Javaughn J. Porter, 5, and babygirl Journey Alexis Porter whom was born in 2022.
Jaidyn serves as the CEO of Babyface Skin and Body LLC, where she educates others one on one on how to become their own boss in the cosmetics industry. Offering facials and more, Jaidyn has revamped her business. Though there isn't a launch date yet for her public services, Jaidyn continues to stay grounded in the industry, as she has made her name known through her children's father, Blueface.
Blueface's Ex-Girlfriend Vandalizes His Car and Home
Though everything between Blueface and Jaidyn seems copacetic now, the road to finding peace between the two wasn't all that easy. Back in 2020, entrepreneur Jaidyn found out Blueface was home with another woman while their son was there. In a blinding rage, Jaidyn took to the streets and vandalized Blueface's vehicle.
In another 2020 incident between Jaidyn and Blueface, the mother of his only child at the time, slapped the rapper across his face . Blueface shook it off by singing Big Sean lyrics, "I got way too much on my mental, I learn from what I been through." Though he seemed unfazed, it was time that could only tell what was real between the two.
The High School Sweethearts Call It Off
Ultimately breaking off the relationship, Blueface and Jaidyn continue to stay on the same page regarding their two children. Though Jaidyn found jealousy in the father of her children, she seems more focused now than ever on both her business and kids, as Blueface has made a clear break away from her and their unnecessary drama.
Without knowing in certainty who the woman was that broke the high school sweethearts up, we can only imagine that the clear break was due to Blueface's blossoming relationship with none other than the outspoken Chrisean Rock.
Chrisean Rock Announces Pregnancy with Blueface
Chrisean is a rising hip-hop artist that Blueface was essentially mentoring. Eventually the sparks flew and a fire grew. The latest known tattoo she received was a photo of Blueface's portrait on her neck. Displaying with affection and pride, we can only assume that it won't be the last. Especially being that two are now expecting a child together.
Chrisean announced her pregnancy in January 2023 on Blueface's birthday. Glowing in all her glory, Chrisean seemed happy to be mothering not only a child, but a child fathered by her man. Though it should have been a blessed moment between the two, Blueface demanded a DNA test after her announcement, taking to twitter saying. "Rock has had encounters with 10 different men in the last year until I see DNA test it's not mine."
The Rapper Says, "being my BM would be a blessing."
"In continuing, Blueface states, "To answer y'all questions yes me an rock are officially done it's strictly business I tried it an clearly it wasn't giving before she announces…she's pregnant with somebody else's child not mine." Though Blueface faced backlash from fans on his decision to disregard the child as his own, he showed no initial remorse or support for Chrisean, sarcastically saying, "I know y'all thought she was all about me…me too lol but the facts are facts being my BM would be a blessing."
Chrisean responded to Blueface and fans via twitter saying, "So what happens wen you eat all ya evil words…I haven't been active with no one but u … n ion need no money I got my own I don't need a baby Daddy I'm just having this child because I don't want to keep having abortions."
Seemingly slamming Jaidyn for using Blueface's money, Chrisean still stays faithful in knowing that Blueface is the father of her child. Though love may not cost a thing for Chrisean, she clearly has deep feelings for the rapper.
Online Fight Between Blueface and Chrisean Rock Continues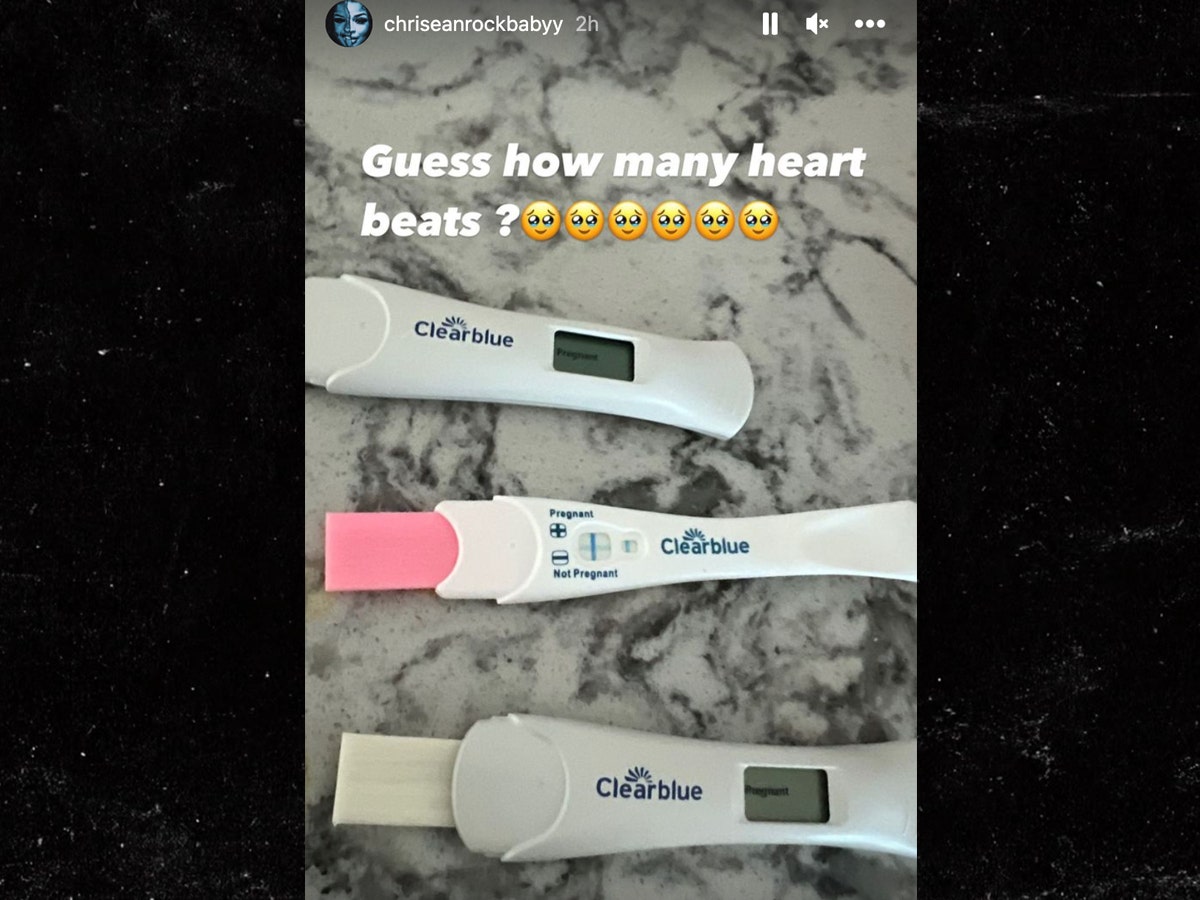 As Chrisean's pregnancy resumes, fumes continued to arise between the rapper and the future mother of his third child. The two continued their toxicity through Instagram live and twitter comments where Chrisean, in response to Blueface's comments about her announcement, said, "I'm Not scared to say I'm pregnant; I'm saying it, I'm pregnant because I'm actually keeping it. I for sure know it's his baby. He's doing this maybe for clout I'm not sure." Additionally, "It's a blessing to have a rock like me."
Saying she'd take a DNA test in praying that her baby was not his, though we are sure she does, Chrisean and Blueface continued their twitter dispute. Blueface tweeted, "it's not a blueface baby." But Chrisean was quick to shut him down the dude with a response tweet saying she was done with the drama after taking three at home pregnancy tests.
Stating that she wanted to have "two evil twins," Chrisean continues to stay certain in knowing the baby is Blueface's as well as happy that she is finally given the chance to keep a child.
He Steps Up for Chrisean Rock
Though the two have had drama, Blueface and Chrisean seem stronger than ever, as Blueface has proudly stepped up to support his pregnant girlfriend, Chrisean Rock. The couple even collaborated on a song in the same month Chrisean announced her pregnancy. In "Dear Rock" Blueface apologizes for getting into an altercation with her dad in the video that surfaced months prior.
Chrisean later responds with lyrics, "Hey daddy, I was thinking 'bout the same thing. When you had a baby on me, I just couldn't swallow the pain." Referring to when Blueface had his daughter with Jaidyn Alexis while Chrisean and Blueface's relationship was gaining momentum in 2022.
With not much feedback from Jaidyn Alexis, it's up in the air on whether or not she supports the two. Their child is arriving later this year.