Cristiano Ronaldo, the renowned soccer icon, has captured the world's attention not only for his remarkable skills on the field but also for his impressive net worth. As of 2023, Celebrity Net Worth estimates Ronaldo's wealth at a staggering $500 million, making him one of the wealthiest and most visible athletes globally. Let's delve into the factors that have contributed to Cristiano Ronaldo's net worth.
Cristiano Ronaldo's Rise In Soccer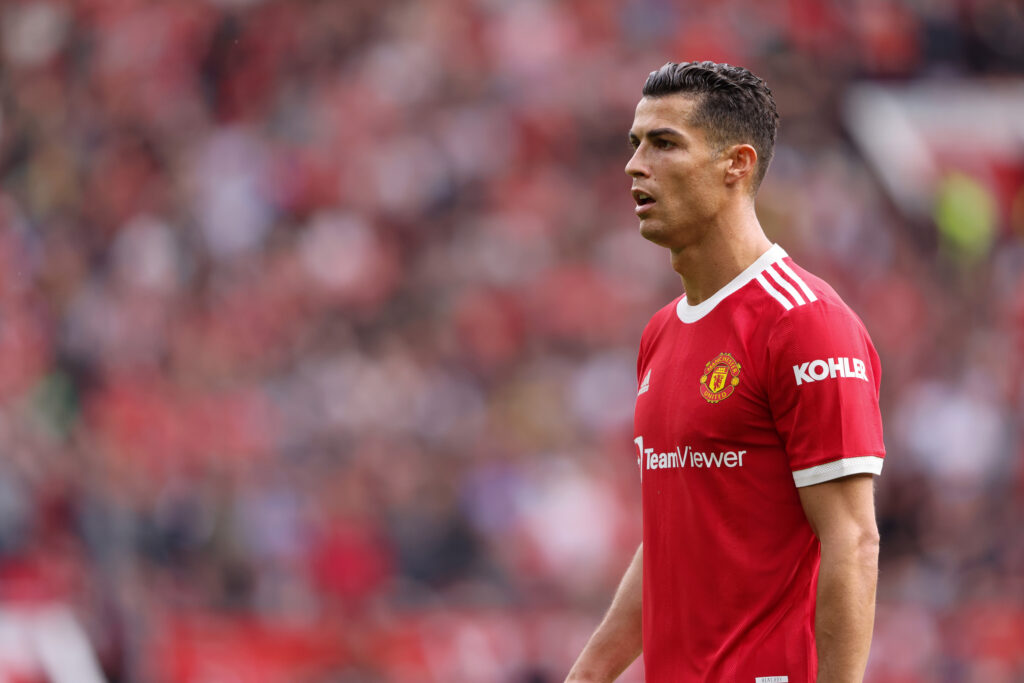 MANCHESTER, ENGLAND - SEPTEMBER 25: Cristiano Ronaldo of Manchester United during the Premier League match between Manchester United and Aston Villa at Old Trafford on September 25, 2021 in Manchester, England. (Photo by Matthew Ashton - AMA/Getty Images)
Ronaldo's journey in soccer began at an early age in Portugal, where his prodigious talent quickly caught the eyes of scouts. At just 12, he joined the prestigious Sporting Lisbon youth academy, which paved the way for his professional career. Ronaldo's exceptional performances soon attracted the attention of top clubs in Europe, leading to his transfer to Manchester United in 2003.
Read More: Lionel Messi Net Worth 2023: What Is The Soccer Star Worth?
The Journey Through Various Teams
KIEV, UKRAINE - MAY 26: Cristiano Ronaldo of Real Madrid lifts The UEFA Champions League trophy following his sides victory in during the UEFA Champions League Final between Real Madrid and Liverpool at NSC Olimpiyskiy Stadium on May 26, 2018 in Kiev, Ukraine. (Photo by Laurence Griffiths/Getty Images)
His time at Manchester United was transformative, and he played a vital role in the team's success, securing three Premier League titles and a UEFA Champions League trophy. In 2009, Ronaldo transferred to Real Madrid, setting a then-world record transfer fee. During his nine years with Los Blancos, he achieved numerous accolades, including four Champions League titles and four Ballon d'Or awards.
In 2018, Ronaldo moved to Juventus, further bolstering his global fame and net worth. His impact on the field has been immense, elevating the stature of each club he represents and contributing significantly to his marketability.
Lucrative Endorsement Deals
MONACO, MONACO - AUGUST 29: Cristiano Ronaldo of Juventus, Lionel Messi of FC Barcelona and Virgil Van Dijk of Liverpool react during the UEFA Champions League Draw, part of the UEFA European Club Football Season Kick-Off 2019/2020 at Salle des Princes, Grimaldi Forum on August 29, 2019 in Monaco, Monaco. (Photo by Harold Cunningham - UEFA/UEFA via Getty Images)
Apart from his soccer earnings, lucrative endorsement deals heavily influenced Cristiano Ronaldo's net worth. The world's most prominent brands, including Nike, CR7, and Clearhair, among others, enlisted Ronaldo as part of brand campaigns. These endorsements have added substantial figures to his income, making him one of the highest-earning athletes through endorsements.
Read More: Kylian Mbappe Net Worth 2023: How Much Is The Soccer Star Worth?
Joining Al-Nassr FC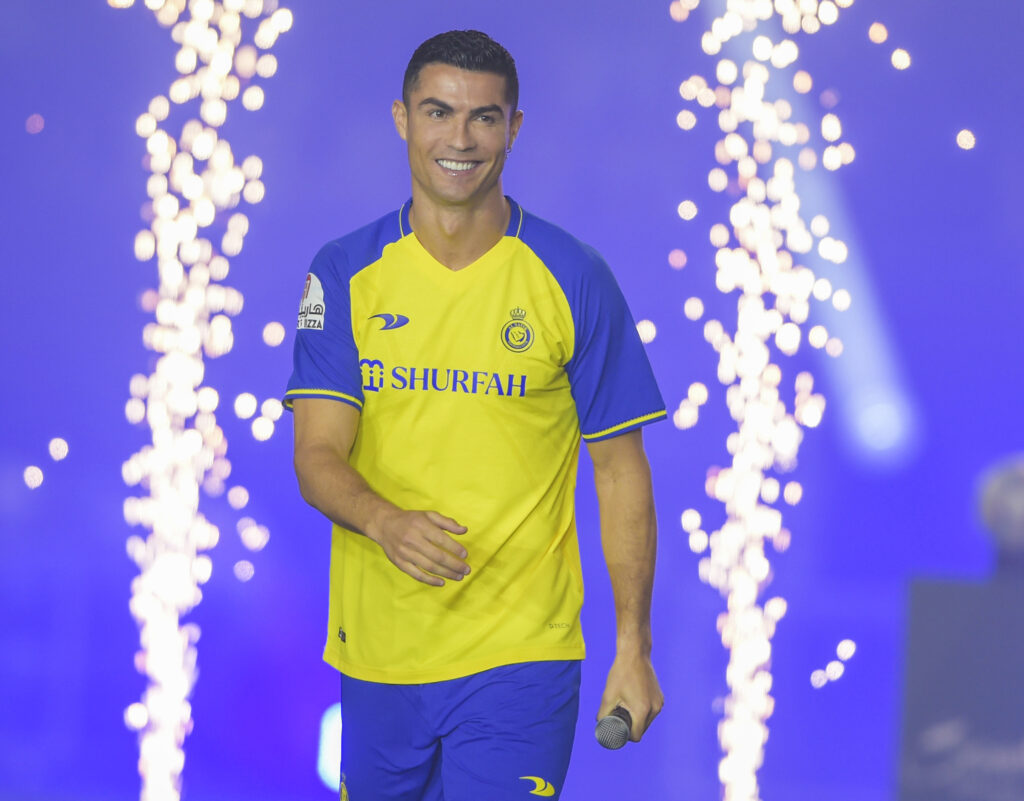 RIYADH, SAUDI ARABIA - JANUARY 03: Cristiano Ronaldo smiles as he is unveiled as an Al Nassr player at Mrsool Park Stadium on January 3, 2023 in Riyadh, Saudi Arabia. (Photo by Khalid Alhaj/MB Media/Getty Images)
Cristiano Ronaldo signed a $75 million-per-year deal with Al Nassr FC, a top-flight Saudi Arabian club. While earlier reports suggested he would earn $207 million annually, the new agreement guarantees $75 million for his on-field contributions. Additionally, Ronaldo has the potential to earn up to $200 million through commercial agreements with the club, making the overall package highly lucrative.
Remarkable Accomplishments
Ronaldo's illustrious career has been adorned with numerous records and achievements. He is the all-time top scorer in UEFA Champions League history and the Portuguese national team. With multiple league titles, domestic cups, and international trophies, Ronaldo's trophy cabinet is a testament to his extraordinary talent and unwavering determination.
Read More: Tom Brady Net Worth 2023: What Is The NFL Legend Worth?
The Impact Of Philanthropy On His Net Worth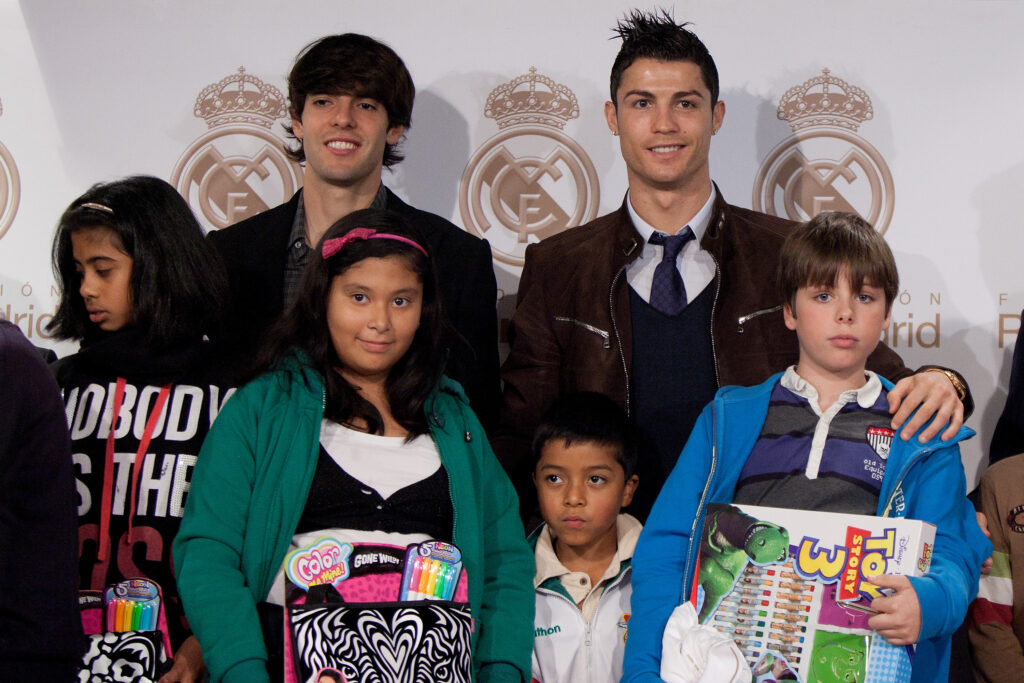 MADRID, SPAIN - DECEMBER 17: (back, L-R) Football players Kaka from Brazil and Cristiano Ronaldo from Portugal attend 'En Navidad, Ningun Nino Sin Juguete', (No Child Without a Toy at Christmas) charity campaign presentation at Estadio Santiago Bernabeu on December 17, 2012 in Madrid, Spain. (Photo by Pablo Blazquez Dominguez/Getty Images)
Beyond his sporting prowess and commercial success, philanthropic endeavors heavily influenced Cristiano Ronaldo's net worth. The football icon has actively participated in charitable activities and has been a generous donor to causes close to his heart. His contributions have not only made a positive impact on various communities but have also enhanced his public image, leading to more opportunities for endorsements and partnerships.
Conclusion
In conclusion, Cristiano Ronaldo's net worth in 2023 stands at an impressive $500 million, a result of his incredible soccer journey, successful club transitions, lucrative endorsements, outstanding achievements, and philanthropic efforts. As Ronaldo continues to excel both on and off the pitch, his net worth is expected to grow further, solidifying his position as one of the wealthiest and most influential athletes of all time.