Lionel Messi, the renowned soccer legend, has reached unprecedented heights in his career, reflected in his staggering net worth of $600 million in 2023, according to Celebrity Net Worth. This article delves into his remarkable journey. Beginning with his humble beginnings, we'll explore the factors that contributed to his current status as one of the richest athletes in the world.
Read More: Lionel Messi Leads Argentina To World Cup Final
Rise To Stardom
Messi's journey began in his hometown of Rosario, Argentina, where his innate talent for soccer was evident from a young age. At only 13 years old, he moved to Spain to join FC Barcelona's famed youth academy, La Masia. His exceptional skills and work ethic soon earned him a spot in Barcelona's senior team. Setting the tone for his career, he made his professional debut at just 17.
Efforts In The League
(Photo by David Ramos/Getty Images)
Throughout his career at Barcelona, Messi proved to be a force to be reckoned with on the field. His exceptional goal-scoring abilities and mesmerizing dribbling skills earned him numerous accolades, including multiple FIFA Ballon d'Or awards. His partnership with Barcelona yielded unparalleled success, leading the team to numerous domestic and international titles.
With each passing season, Messi's net worth skyrocketed as he signed lucrative contracts with the club. His endorsement deals with top brands like Adidas and Apple further bolstered his earnings. These deals added substantial figures to his bank account.
Read More: Lionel Messi To Sign With PSG, Says Goodbye To Barcelona
Joining PSG
(Photo by Matthias Hangst/Getty Images)
Lionel Messi's tenure with Paris Saint-Germain (PSG) from 2021 to 2023 has been nothing short of phenomenal. After a historic departure from FC Barcelona, Messi seamlessly adapted to the French club. With PSG, he showcased his unparalleled skills and football genius. His on-field chemistry with fellow superstars Neymar and Kylian Mbappé propelled PSG to multiple domestic league titles. Additionally, they reached impressive runs in European competitions. Messi became a driving force behind PSG's success. His goal-scoring prowess, creative flair, and leadership qualities endeared him to fans worldwide. For those that doubted his skills, he solidified his status as one of the greatest footballers of all time.
The Move To MLS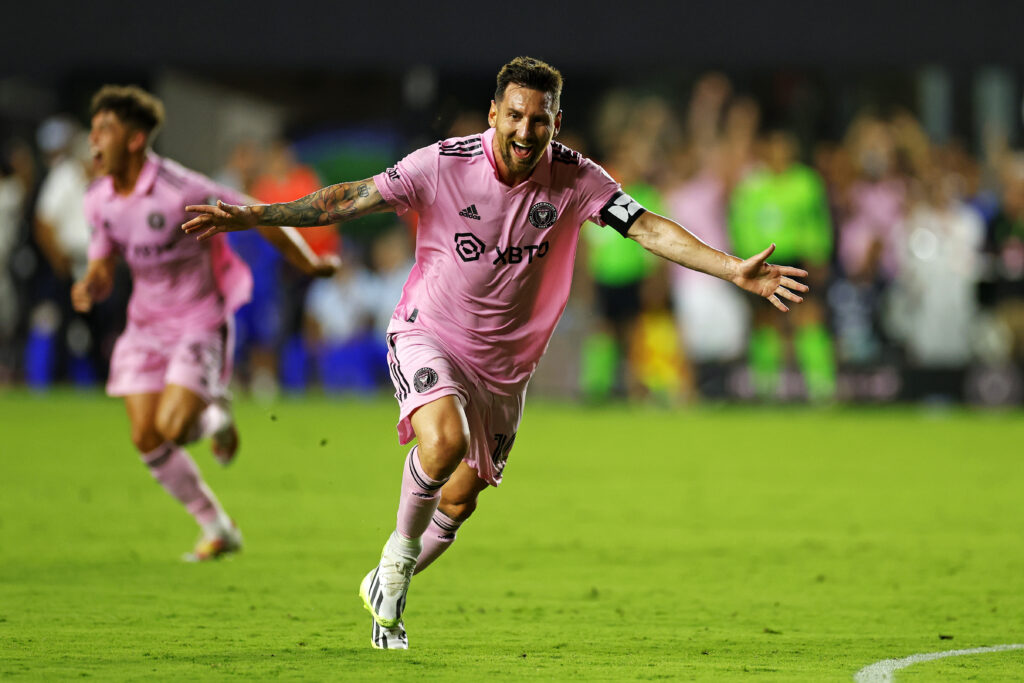 FORT LAUDERDALE, FLORIDA - JULY 21: Lionel Messi #10 of Inter Miami CF celebrates after kicking the game-winning goal during the second half of the Leagues Cup 2023 match between Cruz Azul and Inter Miami CF at DRV PNK Stadium on July 21, 2023 in Fort Lauderdale, Florida. (Photo by Mike Ehrmann/Getty Images)
In a surprising turn of events, Lionel Messi made a groundbreaking decision to join Major League Soccer (MLS). After his contract with Barcelona ended, he signed with Inter Miami, a relatively new team in the MLS. The agreement, valued at up to $150 million over two-and-a-half years, showcased MLS's growing allure for global superstars.
What's more, Messi's move to Inter Miami came with additional compensation from MLS partners Adidas and Apple, further contributing to his already substantial wealth. With such a significant influx of money, Messi's net worth soared even higher.
Read More: Lionel Messi Goes Viral For Comforting His Mascot, DJ Khaled's Son
Turning Down A Lucrative Offer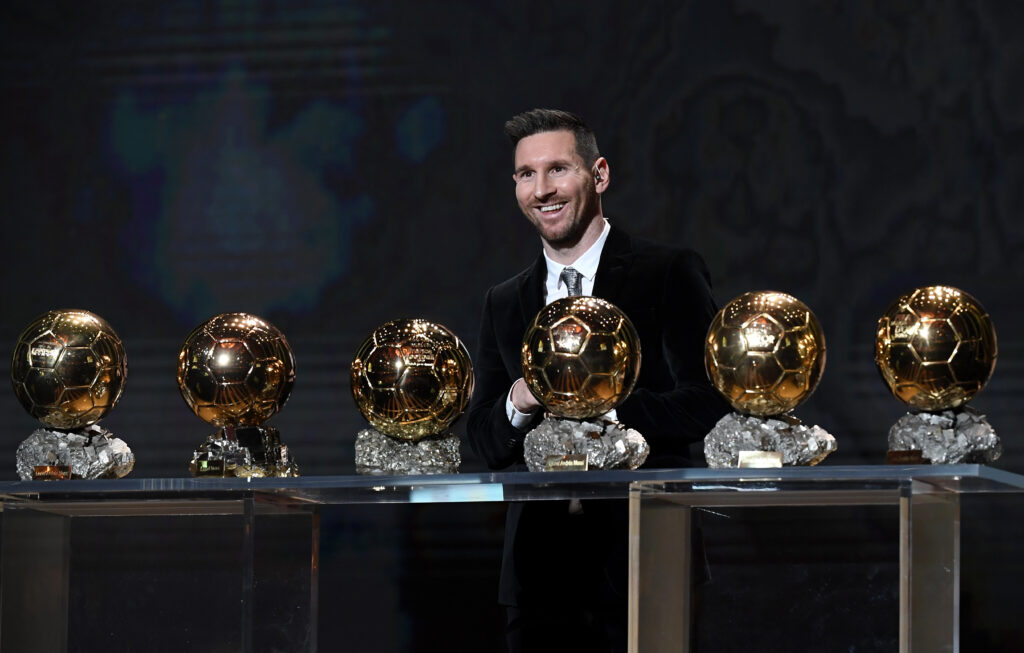 PARIS, FRANCE - DECEMBER 02: Lionel Messi (ARG / FC Barcelona) poses onstage after winning his sixth Ballon D'Or award during the Ballon D'Or Ceremony at Theatre Du Chatelet on December 02, 2019 in Paris, France. (Photo by Kristy Sparow/Getty Images)
Amidst the excitement of his MLS venture, reports emerged that Messi had turned down a staggering $1 billion offer from a Saudi Arabian team. The mind-boggling offer would have seen him earn $1.6 billion over three years, making it the most lucrative contract ever offered to an athlete.
However, despite the eye-watering sum, Messi opted to pursue a different path. Messi prioritized his desire for a new challenge and embraced the opportunity to join the MLS.
Conclusion
Lionel Messi's journey from a young boy in Rosario to becoming a soccer legend with a net worth of $600 million in 2023 is nothing short of extraordinary. His relentless dedication, unparalleled skills, and strategic career choices have led him to this enviable financial standing.
As Messi graces the fields of the MLS with Inter Miami, soccer fans continue to witness the magic of his gameplay. Regardless of where he goes or the records he shatters, Lionel Messi's legacy will forever be etched in the annals of soccer history, both for his brilliance on the pitch and his immense net worth off it.