Antonela Roccuzzo, an Argentinean student and model, has garnered significant attention not just for her relationship with soccer superstar Lionel Messi but also for her own accomplishments and endeavors. As of 2023, her net worth stands at an impressive $20 million, according to Celebrity Net Worth.
Born in Rosario, Argentina, Antonela Roccuzzo's roots are deeply embedded in her hometown. She pursued Nutrition Science at the Universidad Nacional de Rosario, showcasing her academic inclination. Her Argentinean nationality and her connection to Rosario play a pivotal role in her story, as it's the same city where she and Messi first crossed paths.
Read More: Vanessa Bryant Net Worth 2023: What Is The NBA Wife Worth?
More Than Just A "WAG"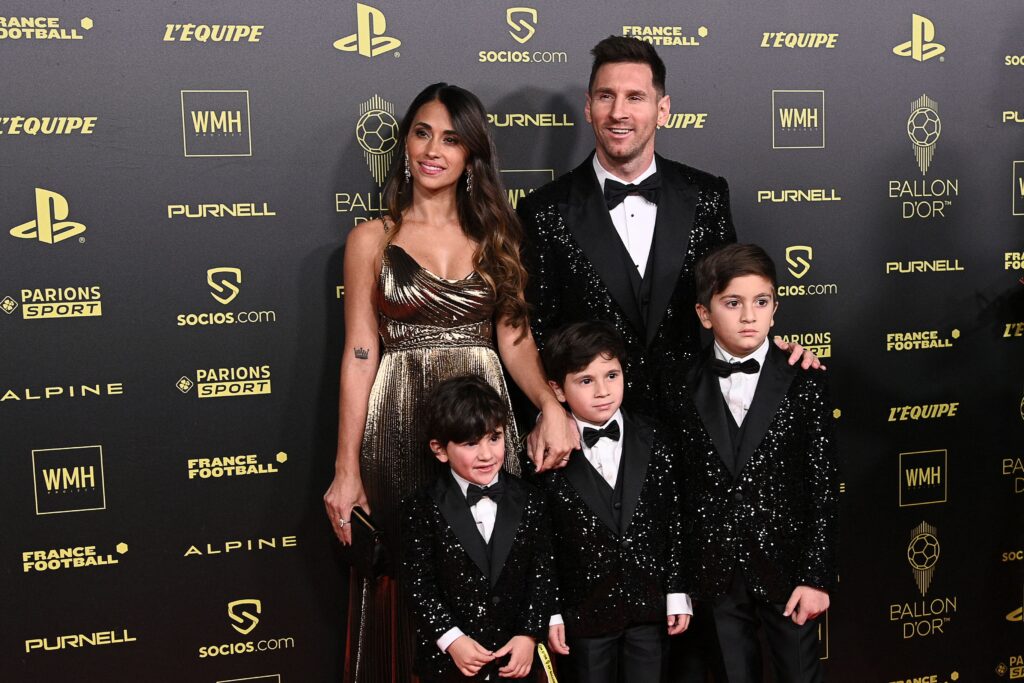 TOPSHOT - Paris Saint-Germain's Argentine forward Lionel Messi (Top R), his wife Antonella Roccuzzo (top L), and their children (down, L-R) Ciro, Mateo and Thiago pose upon arrival to attend the 2021 Ballon d'Or France Football award ceremony at the Theatre du Chatelet in Paris on November 29, 2021. (Photo by ANNE-CHRISTINE POUJOULAT/AFP via Getty Images)
The term "WAG" (wives and girlfriends of footballers) often carries a certain stereotype, but Antonela defies it. She's not just known for her association with Messi. Their love story is the stuff of fairy tales. Childhood sweethearts, the duo has known each other since they were merely five years old. Antonela is, in fact, the cousin of Messi's best friend, Lucas Scaglia.
Their relationship, which began in 2008, has been a testament to enduring love. Unlike many celebrity couples, they've managed to keep their relationship relatively private, sharing only snippets of their life together. In 2012, the couple welcomed their first son, Thiago, marking a new chapter in their journey. Messi's elation was evident when he expressed his joy on social media, stating, "Today I am the happiest man in the world, my son was born and thanks to God for this gift!"
Read More: Lionel Messi Net Worth 2023: What Is The Soccer Star Worth?
Living The Lavish Life, Yet Grounded
Argentina's forward #10 Lionel Messi's wife Antonela Roccuzzo waits for the start of the Qatar 2022 World Cup Group C football match between Poland and Argentina at Stadium 974 in Doha on November 30, 2022. (Photo by JUAN MABROMATA / AFP) (Photo by JUAN MABROMATA/AFP via Getty Images)
While the couple enjoys a luxurious lifestyle in Barcelona, replete with all the trappings of fame and wealth, reports suggest that Antonela remains grounded. She doesn't display any diva-like behavior, a trait that's commendable given their high-profile status.
Read More: Neymar Jr Net Worth 2023: What Is The Soccer Legend Worth?
Antonela's Net Worth In Perspective
ROSARIO, ARGENTINA - JUNE 30: Lionel Messi and Antonela Roccuzzo greet the press after their civil wedding ceremony at the City Center Rosario Hotel & Casino on June 30, 2017 in Rosario, Argentina. (Photo by Fotonoticias MDB/WireImage)
With a net worth of $20 million, Antonela has undoubtedly carved a niche for herself. While her relationship with Messi might have thrust her into the limelight, she has utilized the platform to her advantage, building a brand and identity that's distinctly her own.
It's essential to note that net worth figures, like the one provided by Celebrity Net Worth, are often based on public data and can be estimates. They take into account various factors, including assets, earnings, and more. However, they provide a ballpark figure, giving us an insight into the financial standing of individuals like Antonela.
Read More: Nicole Banecki Net Worth 2023: What Is The Soccer Star Worth?
In Conclusion
Antonela Roccuzzo's journey, from her academic pursuits in Nutrition Science to becoming a recognized figure in her own right, is inspiring. Her net worth of $20 million in 2023 is a testament to her hard work, determination, and ability to maintain her identity in the shadow of one of the world's most famous soccer players. As she continues to evolve and grow, one thing remains constant: her commitment to her family and her ability to remain authentic in a world that often demands otherwise.