As of 2023, Alexandre Pato, the former Chelsea and AC Milan striker, boasts an impressive net worth of approximately $145 million US Dollars, according to the Daily Star. This places him among the top echelons of wealthy footballers globally, even surpassing some of the most renowned names in the sport.
Pato's journey in football has been nothing short of intriguing. Bursting onto the scene as a prodigious talent at the tender age of 16 in 2006, he was once touted as one of the most promising prospects in world football. His time with AC Milan showcased moments of sheer brilliance, solidifying his reputation as a formidable striker.
However, despite the early promise and the flashes of genius on the pitch, Pato's career trajectory didn't always align with the lofty expectations set for him. His time at clubs like AC Milan and Chelsea, among others, was marked by both highs and lows.
Beyond The Pitch: Pato's Business Ventures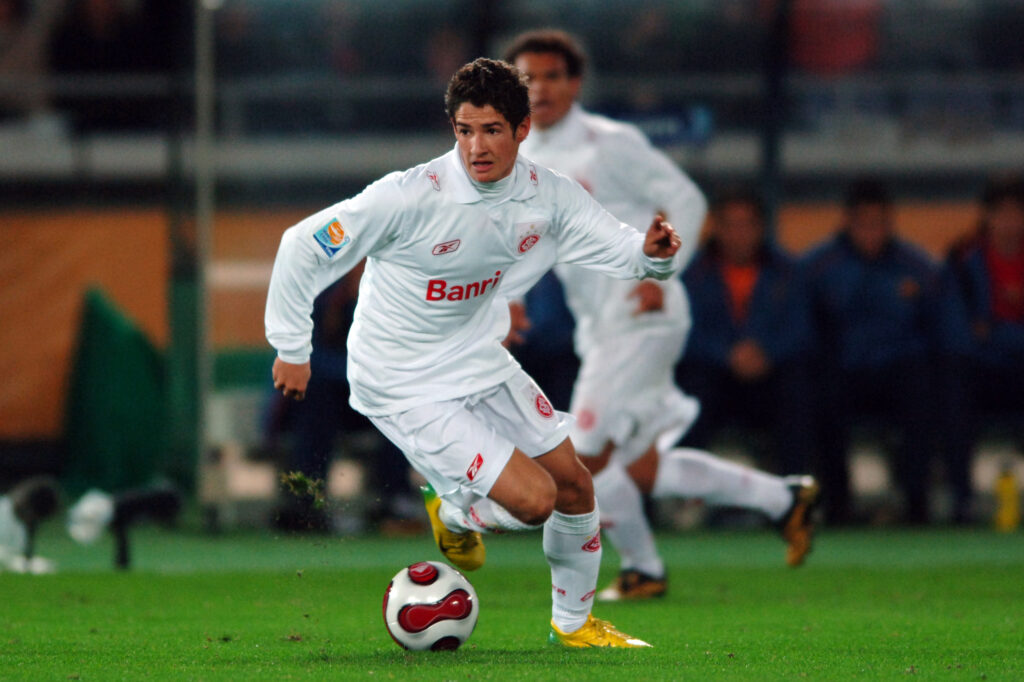 YOKOHAMA, JAPAN - DECEMBER 17: Alexandre Pato of Internacional in action during the FIFA Club World Cup Final between Internacional and Barcelona at the International Stadium Yokohama on December 17, 2006 in Yokohama, Kanagawa, Japan. (Photo by Etsuo Hara/Getty Images)
While his on-pitch career had its ups and downs, Pato's off-pitch endeavors have significantly contributed to his substantial net worth. A significant portion of his wealth doesn't just come from his football contracts but from astute business decisions and investments.
For instance, Pato has ventured into the world of gastronomy with a chain of burger restaurants in Brasilia. He also tapped into the fashion industry with his own line and even delved into the beverage sector with a vodka brand. Additionally, his endorsement deal with CoverGirl cosmetics further adds to his diverse portfolio, showcasing his ability to capitalize on opportunities beyond the footballing world.
Read More: Cristiano Ronaldo Net Worth 2023: What Is The Soccer Star Worth?
Comparing With Other Football Legends
AC Milan's Brazilian forward Ronaldinho (C) celebrates with teammates Brazilian midfielder Kaka (L) and forward Pato after scoring against Lecce during their Italian Serie A football match on November 9, 2008 at comunale Via del Mare Stadium in Lecce. AFP PHOTO / ALBERTO PIZZOLI (Photo credit should read ALBERTO PIZZOLI/AFP via Getty Images)
To put Pato's wealth into perspective, his net worth surpasses that of football giants like Jose Mourinho, who stands at $100 million, and Zlatan Ibrahimovic, valued at $90 million. Even Ronaldinho, Pato's former teammate at AC Milan, has a net worth estimated at $90 million. Such comparisons highlight the financial acumen and success Pato has achieved over the years.
Read More: Kylian Mbappe Net Worth 2023: How Much Is The Soccer Star Worth?
Pato's Current Endeavors
BUENOS AIRES, ARGENTINA - AUGUST 03: Alexandre Pato of Sao Paulo looks on during the Copa CONMEBOL Sudamericana 2023 round of sixteen first leg match between San Lorenzo and Sao Paulo at Pedro Bidegain Stadium on August 03, 2023 in Buenos Aires, Argentina. (Photo by Marcelo Endelli/Getty Images)
As of 2023, Pato continues to play professional football, having recently made a move to the MLS to play for Orlando City. He decided to join the American league due to his desire for happiness and a fresh start, as he mentioned in his unveiling at Orlando City.
Read More: Lionel Messi Net Worth 2023: What Is The Soccer Star Worth?
In Conclusion
Alexandre Pato's story is a testament to the fact that success can be defined in many ways. While his football career might not have consistently lived up to the early hype, his business ventures and investments have ensured his place among the wealthiest in the sport. As he continues to play and explore new opportunities, one thing is certain: Pato firmly cemented his legacy, both on and off the pitch.