Virgil Abloh isn't too happy with the narratives floating around social media right now.
Virgil Abloh came under fire last night after he posted to his Instagram story showing that he had only donated $50 to a bail fund for protesters. Of course, this amount was considered to be quite the joke considering the fact that Off-White socks will run you a light $100 at your local department store. Simply put, fans were disappointed that someone so wealthy and with such a big platform would come out and be stingy with their money.
Today, Abloh went back on his IG story and posted a message to his followers noting that he has had enough of the social media narratives. As he explains, the $50 was simply a part of a donation-match initiative he was doing with his friends. Abloh also noted that he will be revealing the total amount he's donated, in the not so distant future.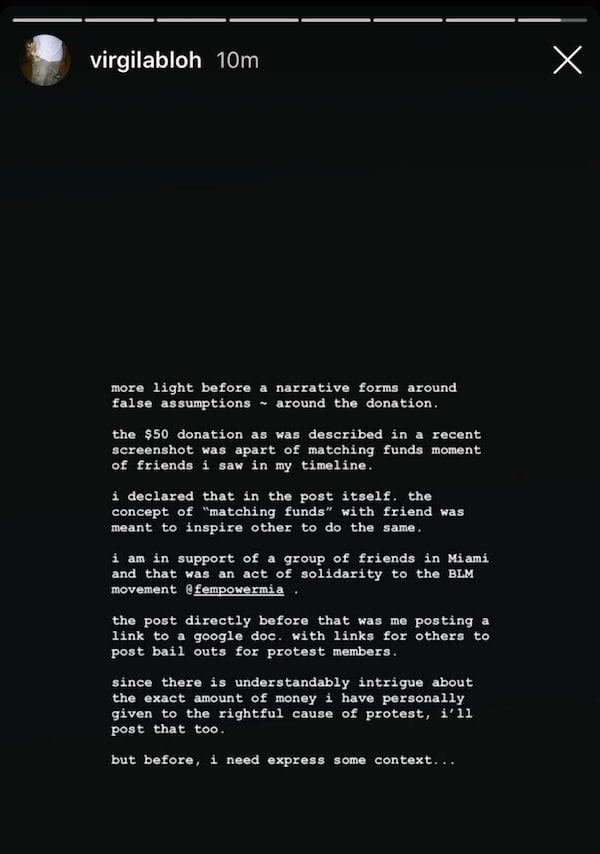 Image via Instagram
"More light before a narrative forms around false assumptions," Virgil said. "The $50 donation described in a recent screenshot was part of a matching funds movement of friends i follow in my timeline." 
Clearly, the incessant Twitter memes have been getting to Abloh and now, he is feeling the heat. Regardless, every little bit helps in this fight and hopefully, Abloh understands that he has a massive platform that could be used to enact systemic change in society.