From the bustling streets of Detroit to the star-studded avenues of Hollywood, the trajectory of Alvin Nathaniel Joiner, better known by his stage name Xzibit, is nothing short of extraordinary. With a compelling blend of gritty lyrics, business acumen, and an undeniable on-screen charisma, this multi-talented figure has solidified his position in the annals of pop culture. In 2023, CAKnowledge pegs Xzibit's net worth at a commendable $3 million. Let's journey through the chapters that contributed to this figure.
Motor City Beginnings: The Rap Evangelist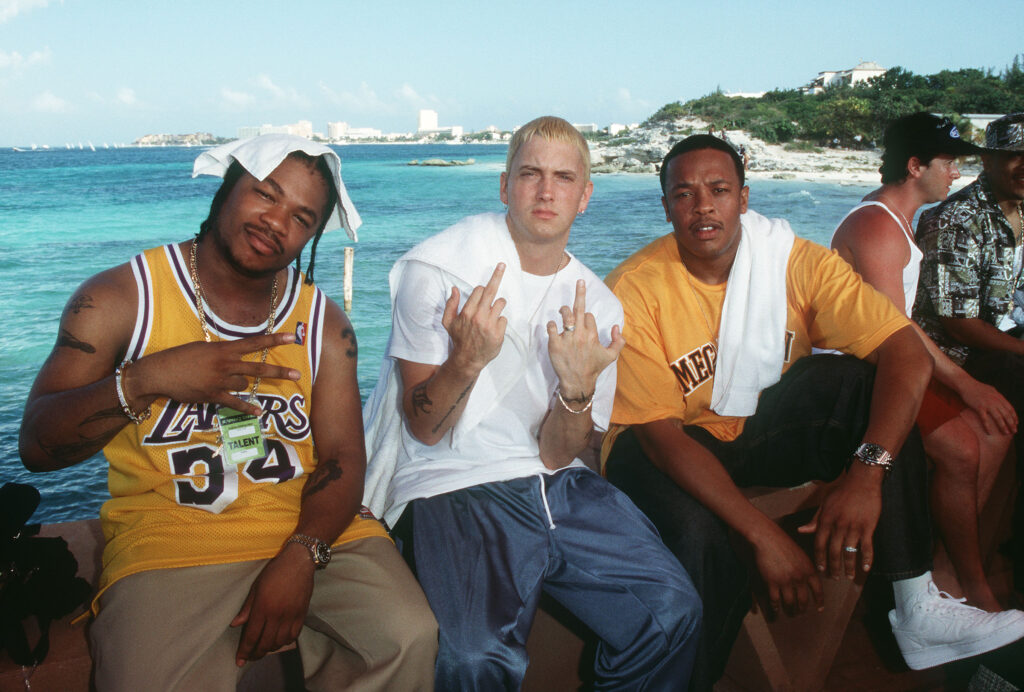 Xzibit, Eminem and Dr. Dre in Cancun at MTV's Spring Break 2000. 3/16/00 Photo by Frank Micelotta/ImageDirect
Detroit in the 1970s was a cauldron of musical innovation, and a young Alvin was right in its midst. But it wasn't Motown that caught his fancy. Instead, it was the burgeoning world of hip-hop. By the time he reached his teenage years, Xzibit was a stalwart in the underground rap scene. Albums like At the Speed of Life and 40 Dayz & 40 Nightz didn't just sell; they told stories of street life, ambition, and survival. They resonated. They were real.
While Xzibit's music created ripples, television turned those ripples into waves. Pimp My Ride, an MTV production, became an unexpected juggernaut with Xzibit at its helm. Here, he wasn't just a host. Xzibit was the charismatic maestro orchestrating vehicular transformations. With its blend of car culture and light-hearted banter, the show shot Xzibit into the mainstream, making him a household name. But his screen endeavors weren't restricted to this. Appearances in films such as Derailed and xXx: State of the Union showcased his versatility as an actor.
Personal Notes: Beyond The Limelight
HOLLYWOOD, CA - JUNE 22: Rapper Xzibit (R) and wife Krista Joiner attend the premiere of HBO's 'The Defiant Ones' at Paramount Theatre on June 22, 2017 in Hollywood, California. (Photo by Jeffrey Mayer/WireImage)
While many know Xzibit for his music and screen presence, fewer know his entrepreneurial ventures. Over the years, he's dabbled in various business avenues, from founding his own record label, Open Bar Entertainment, to stepping into the world of cannabis with his brand, Napalm Cannabis Co. These ventures, combined with his entertainment career, have played pivotal roles in accumulating his net worth.
Away from the spotlight, Xzibit's life has seen its fair share of ups and downs. Personal losses and challenges have often intersected with his professional highs, adding layers to his narrative. These experiences, many of which have found their way into his music, serve as a reminder of his depth as an artist and individual.
Reflections On A Resonant Career
LOS ANGELES, CA - JUNE 22: Rapper Xzibit arrives at the premiere screening of HBO's "The Defiant Ones" at Paramount Studios on June 22, 2017 in Los Angeles, California. (Photo by Kevin Winter/Getty Images)
In analyzing Xzibit's financial standing in 2023, it's crucial to recognize that his $3 million net worth isn't just a testament to his talent but to his adaptability. From Detroit's rap circuits to Hollywood's glitzy sets, from the recording studio to the boardroom, Xzibit has consistently reinvented himself, staying relevant across decades. Overall, while monetary valuation is a success metric, Xzibit's true worth lies in his ability to connect, whether through a rap verse, a TV show, or a business venture. Here's to a man whose journey embodies the essence of evolution and endurance.