The anticipation for Bethesda's latest space odyssey, Starfield, has reached fever pitch. As the game is set to make its grand debut on the Xbox Series X|S and PC platforms, many fans are eager to explore the vast universe that Bethesda has meticulously crafted. But did you know there's a way to embark on this interstellar journey even before the official launch? Let's dive into how you can get early access to Starfield.
The gaming community is buzzing with excitement as Starfield's standard launch date approaches. Slated for release on Wednesday, September 6th, this sprawling space adventure RPG is poised to give Xbox a significant edge over the ever-popular PlayStation platform. But for those who can't wait, there are several avenues to get a head start.
Read More: Starfield: Release Date, Xbox Game Pass, Trailer, Gameplay, Constellation Edition And More
Starfield: Your Ticket to the Stars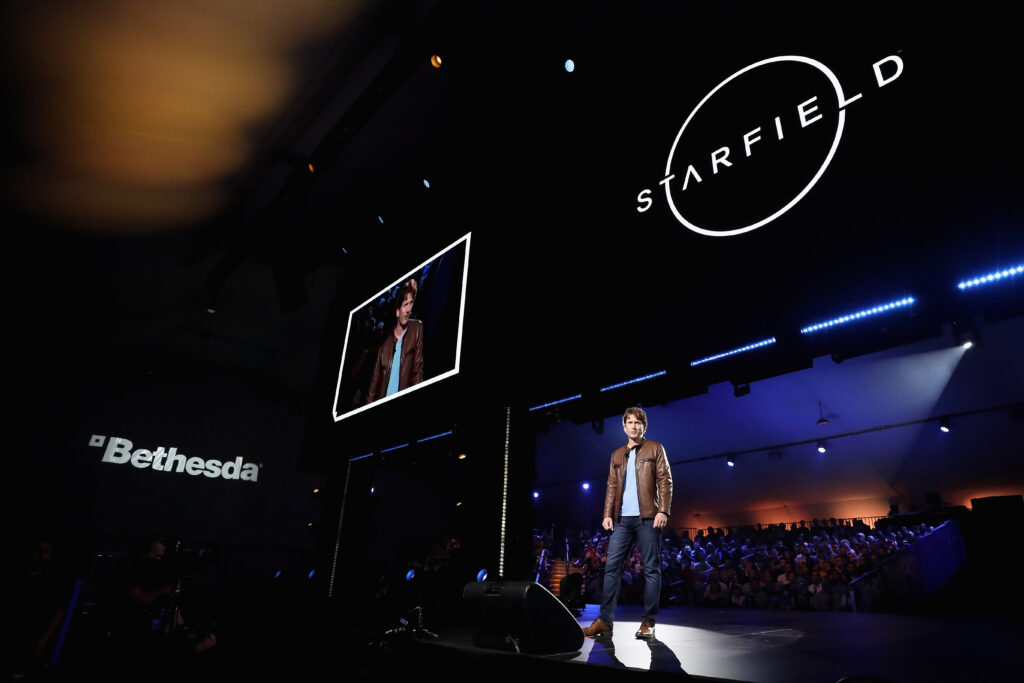 LOS ANGELES, CA - JUNE 10: Todd Howard, Director and Executive Producer at Bethesda Game Studios, introduces 'Starfield' during the Bethesda E3 conference at the Event Deck at LA Live on June 10, 2018 in Los Angeles, California. The E3 Game Conference begins on Tuesday June 12. (Photo by Christian Petersen/Getty Images)
For players who are keen to jump into the action as soon as possible, there are a few options to consider:
Traditional Purchase: You can simply buy the game on Xbox or PC when it officially releases on Wednesday, September 6th 2023.
Game Pass Subscription: If you're already a Game Pass subscriber, either on Xbox or both Xbox and PC, you can play Starfield as part of your subscription from the launch date on Wednesday, September 6th.
Early Access through Special Editions: For the truly eager, pre-ordering the Digital Premium, Premium Upgrade, or Constellation editions of Starfield will grant you early access. Opting for this route means you can start playing from August 31st at 5pm PT / 8pm ET. However, depending on where you are in the world, this might translate to September 1st.
Read More: LEC & LCS 2024 Rostermania: All Transfers And Rumors
Game Pass Subscribers' Special Perk
Image Copyright: Bethesda
Game Pass subscribers have an added advantage. By purchasing the $35 Premium Upgrade, they can enter the Early Access phase. While it might seem like you're shelling out extra for just a few additional days, consider the bigger picture. This upgrade not only offers early access but also includes exclusive in-game items and the Shattered Space Story Expansion when it's released, along with other enticing bonuses.
Read More: SypherPK Net Worth 2023: What Is The Streamer Worth?
Making the Most of Your Money
Image Copyright: Bethesda and GAME
For those who are budget-conscious, there's a way to maximize your investment. Although Microsoft no longer offers the $1 Game Pass trial, you can still get value for your money. By signing up for the Game Pass service and then purchasing the Premium Upgrade, you'll end up spending less than if you were to buy the $69.99 Standard Edition or the $99.99 Premium Edition outright. And the cherry on top? You get Early Access!
Starfield: Embarking on a New Adventure
Starfield promises to be a game-changer in the realm of space RPGs. With its impending release, players around the world are gearing up to traverse galaxies, encounter alien civilizations, and unravel the mysteries of the universe. Whether you choose to wait for the official launch or grab the opportunity for early access, one thing's for sure: an epic adventure awaits.
In conclusion, Starfield's early access offers a unique opportunity for fans to dive into Bethesda's newest universe ahead of the masses. By considering the options available, players can choose the best path that suits their gaming preferences and budget. So, gear up, space explorers, the cosmos beckons!