Tamar Braxton's genesis in the entertainment industry can be traced back to her choral beginnings in Severn, Maryland. Born the youngest of six siblings, she was destined for an odyssey with harmonies, high notes, and even higher stakes. If the Braxton family was a constellation in the night sky, Tamar was its North Star—effulgent and unmissable. Growing up in a devoutly religious household, her vocal timbre was initially nurtured in the crucible of gospel music.
The Braxton quintet, known as The Braxtons, initially acted as both a platform and a protective haven. It further showcased the collective and individual talents of the sisters. While this was Tamar's debut to the world, it was merely the overture to a magnum opus. According to CAKnowledge, her net worth in 2023 is a testament to her brilliance—a staggering $51 million.
The Art Of Being Tamar: Versatility As A Virtue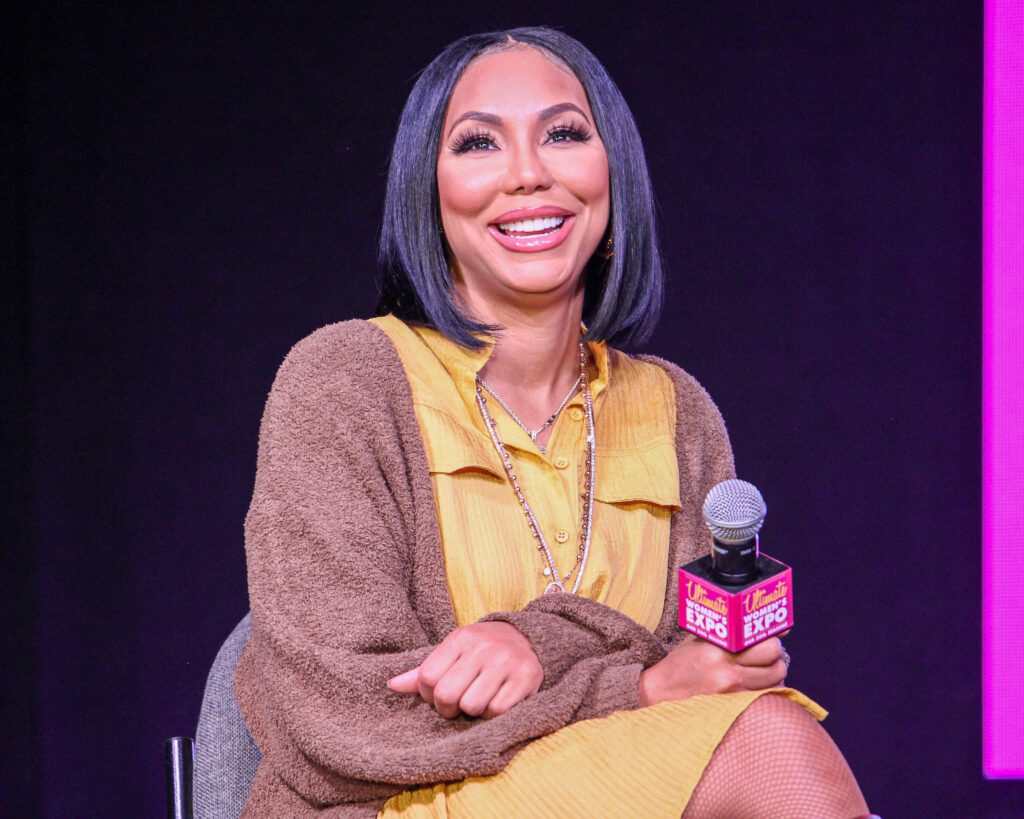 ATLANTA, GEORGIA - NOVEMBER 13: Tamar Braxton speaks on stage at the 2022 Ultimate Women's Expo. At Cobb Galleria Centre on November 13, 2022 in Atlanta, Georgia. (Photo by Joi Stokes/Getty Images)
Tamar Braxton's narrative is neither monolithic nor one-dimensional. It's a sprawling fresco of artistic and entrepreneurial endeavors. From her debut album Tamar in 2000 to subsequent chart-toppers like Love and War, she's navigated the mercurial realm of R&B, gospel, and reality TV with acumen akin to a maestro conducting a symphony. This goes beyond mere vocal prowess. Tamar has also ventured into television with the reality series Braxton Family Values and its spin-off Tamar & Vince. Her life unfurled like a well-scripted drama filled with impromptu crescendos and diminuendos.
Astonishingly, she's also dabbled in daytime television, co-hosting The Real from 2013 until her departure in 2016. This departure was highly publicized, yet it didn't define her. If anything, it further cemented her status as an entertainment polymath. Awards? She has them in spades. Grammy nominations, a BET Award, and several Soul Train Music Awards only scratch the surface of her extensive trophy collection.
Philanthropic Notes In A Song Of Wealth
NEW ORLEANS, LA - JULY 06: Tamar Braxton performs during the 2014 Essence Music Festival. On July 6, 2014 in New Orleans, Louisiana. (Photo by Erika Goldring/Getty Images)
Further, Tamar's voice isn't her only instrument. Her philanthropic undertakings harmonize seamlessly with her wealth, creating a holistic composition of affluence and compassion. She has used her platform for several causes that serve the greater good, including cancer research and mental health awareness. Her openness about her struggles with mental health has not just been therapy for her but has acted as a beacon for those grappling with similar issues, adding another layer of importance to her celebrity.
Stitching Business Into The Fabric of Fame
WEST HOLLYWOOD, CA - APRIL 06: (L-R) Singer Toni Braxton, Tamar Braxton, Evelyn Braxton, Traci Braxton, Towanda Braxton and Trina Braxton. Arrive at the celebration for the new WE tv series "Braxton Family Values". At The London Hotel on April 6, 2011 in West Hollywood, California. (Photo by Charley Gallay/Getty Images For WE tv)
If you thought Tamar was only about notes and scripts, think again. Her foray into the fashion industry with her clothing line Tamar Collection brings an additional revenue stream. It exemplifies the quintessential traits of a modern mogul: diversified, dynamic, and ever-evolving. It's not just the fabric she's selling. Overall, it's a lifestyle, a mindset, an extension of her persona packaged into wearable art.
So, when discussing Tamar Braxton's estimated net worth of $51 million in 2023, understand that it's not just a number. It's also an intricate mural, meticulously painted with strokes of talent, dashes of business savvy, and hues of humanitarianism.