The symbiotic relationship between elite athletes and their managers is intricate, often overshadowed by the glitter of the sports arena. However, every so often, a figure emerges from behind the curtains, commanding respect and attention. Rich Paul is one such force. With a net worth that has touched the remarkable figure of $120 million in 2023, according to CAknowledge, Paul is undeniably in a league of his own.
A Cleveland Tale: Origins Of A Mogul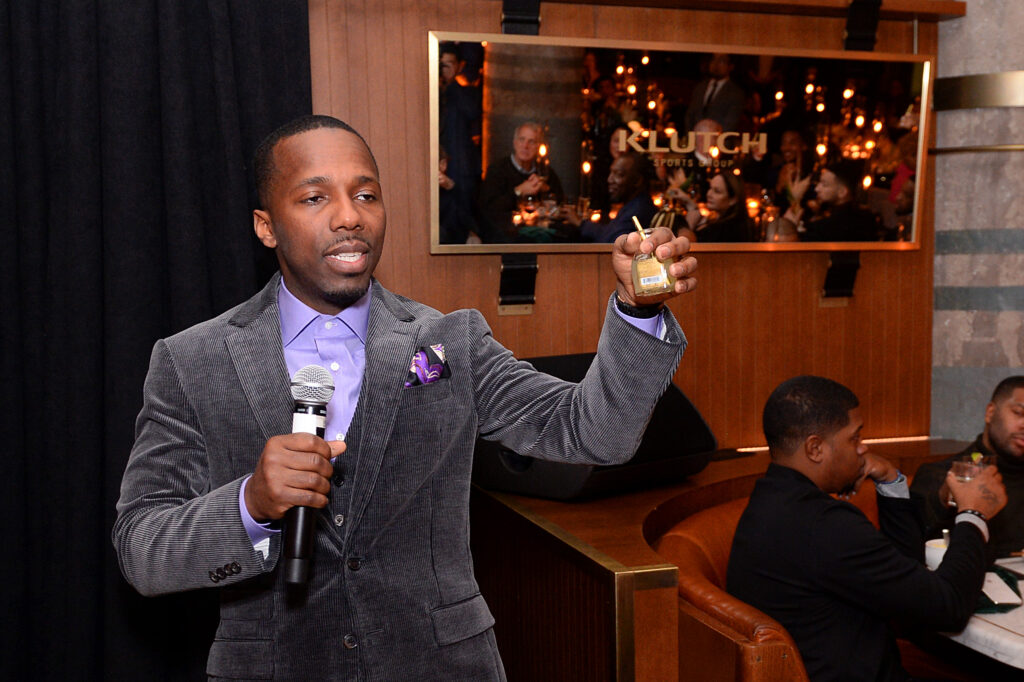 CHICAGO, ILLINOIS - FEBRUARY 15: Rich Paul gives a toast during the Klutch Sports Group All-Star Dinner. Presented by PATRÓN Tequila at Swift & Sons on February 15, 2020 in Chicago, Illinois. (Photo by Daniel Boczarski/Getty Images for PATRÓN Tequila)
Rich's journey is one firmly rooted in Cleveland, Ohio—a city known for its passionate sports fanbase. His upbringing in this vibrant sports environment was less about silver spoons and more about determination and hustle. While Glenville's streets presented their challenges, they also shaped Paul's indomitable spirit and business acumen. From selling retro sports jerseys from the trunk of his car to serendipitously meeting LeBron James, the seeds of a burgeoning empire were sown.
Crowning Achievements In The Court Of Sports
LOS ANGELES, CALIFORNIA - FEBRUARY 11: (L-R) Rich Paul and Quavo attend the KLUTCH Sports Group x UTA Dinner. Presented by Snapchat at Beauty & Essex on February 11, 2022 in Los Angeles, California. (Photo by Amy Sussman/Getty Images for KLUTCH Sports Group)
At the helm of Klutch Sports Group since 2012, Paul shifted the paradigms of sports management. Representing a roster that reads like the who's who of the NBA, including the luminary LeBron James, Anthony Davis, and more, Paul's negotiation skills have secured lucrative contracts for his clientele. It also makes him a force to be reckoned with in boardrooms across the nation.
Beyond The Court: Rich's Personal Canvas
LOS ANGELES, CALIFORNIA - FEBRUARY 05: Rich Paul and Adele attend the 65th GRAMMY Awards at Crypto.com Arena on February 05, 2023 in Los Angeles, California. (Photo by Johnny Nunez/Getty Images for The Recording Academy)
While the world often sees the assertive businessman, those close to Paul witness a tapestry of relationships, values, and beliefs. He values loyalty, evident in his longstanding friendship with LeBron James. Their bond transcends business, rooted in mutual respect and shared histories. It's a testament to Paul's character and his ability to foster and maintain relationships in a world where loyalties can be as fickle as team allegiances. Further, Paul's acumen isn't limited to sports. He's spread his influence, venturing into media, music, and more realms. His endeavors are not just about wealth accumulation but also giving back. Through various charitable initiatives, he has championed causes close to his heart, ensuring his success leaves a positive imprint on communities.
Drawing The Curtain
As we chronicle the journey of this titan, it's evident that Rich Paul is more than just a sports agent. He is a visionary, a strategist, and above all, a trailblazer. In sports and beyond, his legacy is firmly etched, and if the past is any indicator, the future holds even greater laurels for this maestro.