"not my site, yall gullible smh"
When a mysterious website called ScumFuckFlowerBoy.com surfaced, many fans speculated it was directly correlated with a new Tyler, The Creator album. With a supposed tracklist thrown into the mix, many were left wondering if the whole thing was an elaborate stunt from Tyler and his team. It would be in keeping with his MO, considering the cartoonish aesthetic and vulgar, non-sequitur of a title.
Unfortunately, The Creator himself took to Twitter and put a stop to the hype train. In a series of since-deleted tweets captured by Pitchfork, Tyler denies any association with the website, calls his fans gullible, and adds insult to injury by calling the page ugly.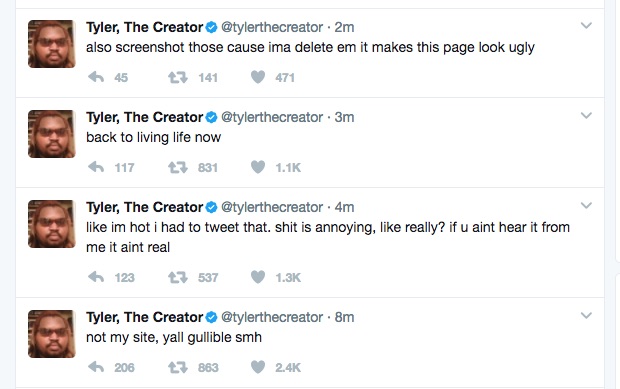 Despite Tyler's denial, there are some who remain hopeful, maintaining the whole process is in keeping with Tyler's character. Do you think a new Tyler album is about to drop or should we consider the rumor officially dead? 
If you haven't already, check out five fast facts about Tyler below.