The spectators at the marathon saw more than they bargained for.
There are several things you don't want to happen to you while running a marathon: the painful cramps that result from dehydration, the disappointment that hits you when you run out of steam just before the finish line or, if you're a man, having your junk flap around in the breeze from underneath your shorts.
You're probably saying to yourself, "Hey, that seemed like quite a leap on your last example there," and, while that may be correct, that was exactly the kind of embarrassment that afflicted marathon runner Jozef Urban recently. He finished in 10th place at the Košice Peace Marathon that took place in Slovakia last weekend and, during the final few meters of the race, fans were greeted by the sight of his appendage catching some rays just as he was about to finish the course and log his time, which turned out to be a personal best, according to Deadspin. When it comes to sack racing, I'll get this guy is unbeatable.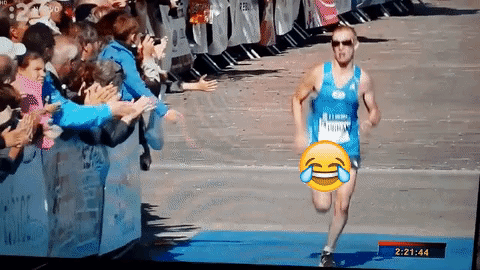 Enhancing the awkwardness of the moment is that the image was captured on the live TV broadcast of the race as well, with an interviewer completely unaware of what was happening on the other side of that split screen. As the saying goes, it's not about size, it's how you use it. Perhaps the slippage down below was intentional to improve Urban's aerodynamics as he ran, although scientifically there might be no proof of this being a viable way to gain an advantage when running long distances. The real question is this: how much pain was he in afterwards. If he realized what was going on, he clearly doesn't slow his pace down one bit. When you're looking for a Top Ten finish in the race you're running, you've got to do what it takes I guess.
The Košice Peace Marathon says that it is the oldest marathon in Europe, which may give some extra context to Urban's faux-pas. If nothing else, it can be seen as a tribute to the first marathon runners in recorded history, who supposedly ran in the nude.
[Warning: The NSFW live TV footage can be seen here]